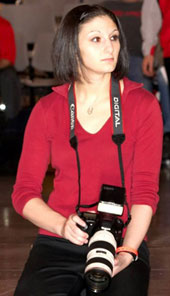 Born and raised in Cambridge, Massachusetts, I spent the first 22 years of my life living in my hometown. I graduated with honors from Harvard University (class of 2001), earning a B.A. in psychology (focused in cognitive development). During my four years at Harvard, I developed an interest in web and graphic design, and began my own freelance design business. Samples of my work can be viewed on the web and print design sections of this site.
My other artistic love has always been photography. I began doing predominantly landscape and architectural photography when I was in high school, winning several local awards in the process. During college and adulthood, I turned my focus mostly upon sports photography. My dedication to covering the sport of wrestling through the camera lens earned me a National Wrestling Media Association "Photographer of the Year" award, as well as the NWCA's "Dan Gable America Need Wrestling" award. One of my most popular websites was AmateurWrestlingPhotos.com, which displayed wrestling photos taken by myself and two other photographers at various major national and international wrestling tournaments. I also started a website called ChicagoMMA.net during the 3 years I lived in Chicago, which I used to displayed my pictures from Mixed Martial Arts events around Chicagoland.
Aside from my creative endeavors, I have focused on athletics. I have competed in various combat sports, including Brazilian Jiu-Jitsu/no-gi grappling, Muay Thai kickboxing, and Mixed Martial Arts.
In my spare time, I enjoy playing tennis and Scrabble. I also am an avid sports fan, and contribute to the website CelticsLife.com.
If you are looking to hire a graphic designer, webmaster, or photographer, please email me the details of the project at dhobeika@gmail.com or call me at 609.933.5515 and I would be happy to speak with you.
> Click here to download my resume (PDF format)